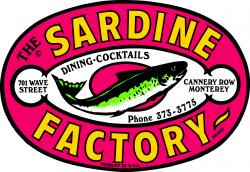 Sardine Factory is Hiring!!
Featured
2020-08-06 The Sardine Factory 701 Wave Street Depends on Experience and Job hour
Description:
The Sardine Factory – one of Monterey's best restaurants is getting ready for an exciting new venue to enjoy your outside dining at the "Sardine Factory Pavilion" - our candidates must be able to provide excellent guest service and enhance the overall customer experience along with the general job responsibilities, which include: 
Bartender 
Server (flexible hours for AM and PM)
Busser 
Line Cook 
Interested candidates can either visit The Sardine Factory for an employment application located at 701 Wave Street in Monterey. Or, for your convenience we can email you an application. Thank you for your interest! 
Do not contact this company in solicitation of any product or service.